___________________________________________
MSTR   Potential breakout above this higher (down trending) line. Would ideally like to see with increased volume to confirm strength.

Alert signal sent at 293.93, June 20th

Alert to take some profit at 371.80,  July 3rd
Alert to take some profit at 332.80 July 13rd
Alert to take the rest of profit at 458.20 July 14th

MSTR Position Closed  +26.5% +47.2% +55.9%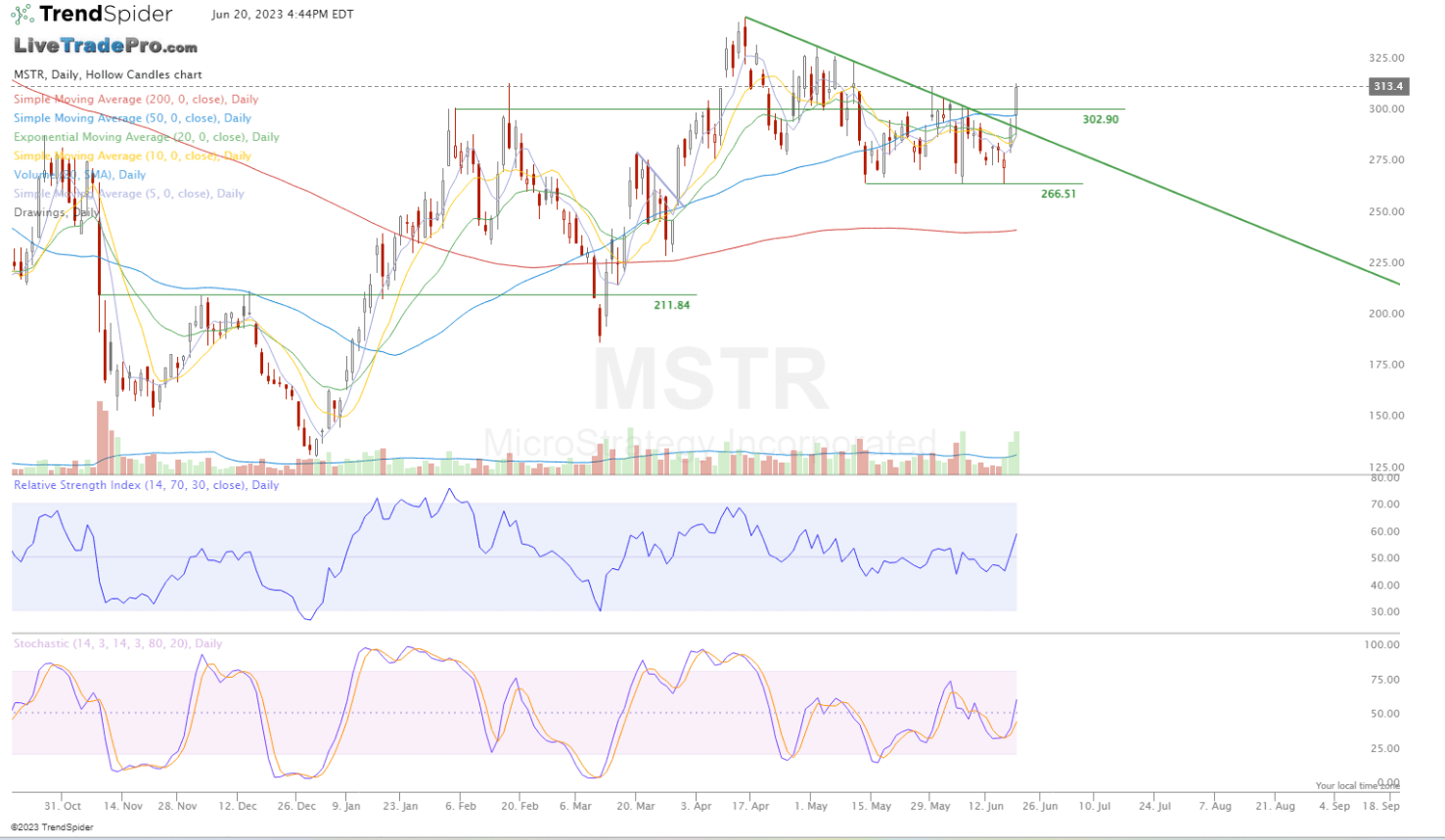 ____________________________________________
I'm not the expert on fundamentals but I do follow and associate myself with those that have that expertise. 
And so I most often focus on trading stocks that have both strong technical analyses, along with good, strong fundamentals; to give me an extra advantage by having as much as possible in my favor.
____________________________________________
We help traders gain confidence.
Swing trader
This is my main focus on helping you to trade. Get my alerts live during market hours, often on stocks just coming up off support. And most often well before the breakout. Plus you'll get live, continual updates during market hours on market direction and much more.
Day trader
My private chat room alerts you the very moment that I'm seeing evidence of a move (often well before the breakout) with specific pivots points to watch to help you to make the decisions you need to, quickly.
Investor:  Many traders also love my stock picks because they're often better than average stocks, and so they hold them also in their longer term account.
Option trader: Trade the momentum alerts. An example from one of our members
____________________________________________
What makes us different?
It doesn't take all that much to put together a daily list of stocks in order to look good.  So called gurus know that one or two of these will run higher and then post about the (so called) few wins, just to look good!   These are tactics all too often used to exaggerate real results.
Instead what I give is a clear, concise plan with alerts sent out only when I see what I believe to be an exceptional stock setting up to move higher, based on the technical analysis. My technical  alerts are sent to you the moment I anticipate a move (most often well before the breakout
Over 75 thousand followers now on social media.
_____________________________________________