____________________________________________
What type of traders use our services.
Swing traders: This is my main focus on helping you to trade. Get real time alerts on stocks just coming up off support, often well before a breakout. Plus live updates during market hours on market direction and much more.
Day traders: My private Twitter alerts you with precision to stocks (with specific pivots points to watch) the very moment that I'm seeing evidence of a potential breakout.
Investors:  Many traders also love my stock picks because they're often better than average stocks, and so they hold them also in their longer term account. See for yourself
Option traders: Trade the momentum alerts. Here's one subscribers success trading options with my services
____________________________________________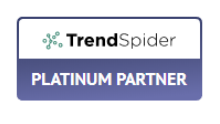 Be part of one of the fastest growing trading communities!
TrendSpider  << Get your Free Trial
More than just charts. It's an all in one trading platform.
Scanning / Option Flow / Alerts / Back testing / Automation / Raindrops ™ and more.
And friendly customer service
Save 30% on TrendSpider for one full year. Use Promo Code LTP30 Free Trial
Become a TrendSpider affiliate and  earn a very generous residual income for life, with a 95% retention rate? Simply by sharing your charts with others.
Email me now for details.
____________________________________________
What makes us different?
It doesn't take all that much to put together a daily list of stocks in order to look good.  So called gurus know that one or two of these will run higher and then post about the (so called) few wins, just to look good!   These are tactics all too often used to exaggerate real results.
Instead what I give is a clear, concise plan with alerts sent out only when I see what I believe to be an exceptional stock setting up to move higher, based on the technical analysis. My technical  alerts are sent to you the moment I anticipate a move (most often well before the breakout)
Over 50 thousand traders follow me on social media. Follow me on Twitter 
How I go about analyzing setups on stocks
Watch the recorded video from our live (recorded) webinar below.
Important  There was a technical issue, so there is a lengthy delay (a black screen) after Jake introduces me, so please be patient.  🙂
See how pros and novices alike benefit from my trading services with your own Free 7 Day Trial